If you have purchased a license for PowerArchiver, you must enter the code you received to register the software and remove the registration notice. You can do so in several ways: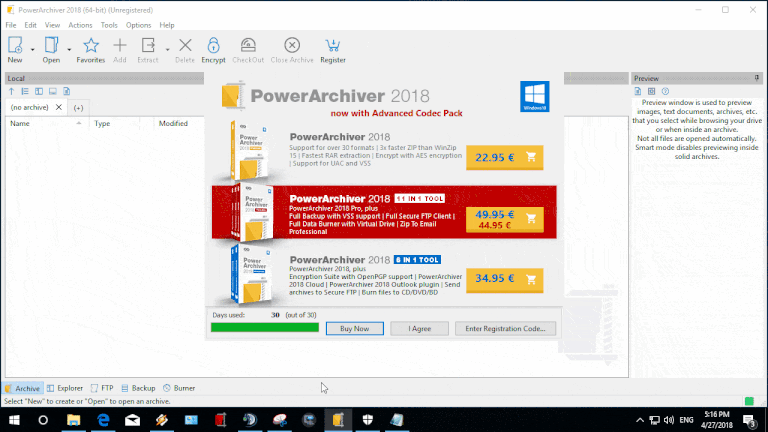 If PowerArchiver displays a registration notice when opened, click the "Enter Registration Code…" button from that screen.

Select "Enter Registration Code…" from the "Help" menu.

Click the "Register" button on the toolbar.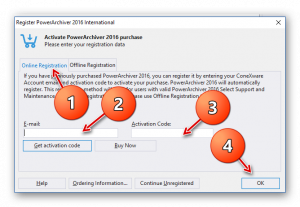 When the "Register PowerArchiver" dialog appears, you have 2 options - you can use Online registration or Offline registration by clicking on their perspective tabs in upper left part of the window.

Online Registration - (RECOMMENDED!) - Online registration uses your PowerArchiver Select activation code (3 characters) and email to pull your PowerArchiver codes from our servers. It works with every version of PowerArchiver as long as you are online and your PowerArchiver Select maintenance plan is active. This is by far the easiest way to register PowerArchiver and keep it registered with every major update as long as Select is active.

Offline Registration - Offline registration uses Registration Name and Registration Code (long) to register your specific version of PowerArchiver. Please copy and paste both from your registration email and make sure your installed version matches version information from your email (e.g. PowerArchiver 2016 codes will register PowerArchiver 2016).
Once entered, click "OK" to register PowerArchiver. Please note that PowerArchiver will always accept codes and that code checks happens once you actually start PowerArchiver again - if codes are not accepted, nag screen will appear again. If codes are accepted, nag screen will be removed and PowerArchiver will remove all unregistered notices.
Make sure you are using same codes as the version that is installed. If you have PowerArchiver 2016 installed, make sure that your email with codes specified that these are PowerArchiver 2016 codes.

Run As Admin - try running PowerArchiver as administrator by right clicking on PowerArchiver icon and selecting Run As Admin. This is applicable to Windows Vista, Windows 7, Windows 8 and Windows 10. Then enter your registration codes.
If you have free upgrade to PowerArchiver 2016, you will still need PowerArchiver 2016 codes to register PowerArchiver 2016. If you have codes for version earlier than 2016, then please look below on how to login to your account to get latest codes.
PowerArchiver 2016 is an free upgrade to ALL Personal license customers. PowerArchiver business license customers have free upgrade as long as their PowerArchiver Select maintenance plan is current. If your select plan has expired, there is usually a special offer for renewal waiting in your account. You need to go and visit your account via link above to receive latest PowerArchiver registration codes.